SeaPort-e
Advanced Integrated Software Seaport-e Prime Contractor
This page provides important performance details to potential customers regarding Advanced Integrated Software's ability to provide world-class professional support services for all NAVSEA Program Executive Offices, Directorates, and field activities. This webpage also highlights the functional capabilities associated with different products or business areas offered by Advanced Integrated Software and its team members.
About Seaport
NAVSEA established the SeaPort Office to meet these the NAVSEA strategic sourcing wedge and the OSD performance based contracting directive while bringing order to NAVSEA PSS acquisitions.
SeaPort Enhanced (SeaPort-e) has made electronic procurement of Engineering, Financial, and Program Management support services a reality. Using SeaPort-e, the Navy Virtual SYSCOM (VS) Commanders (NAVAIR, NAVSEA, NAVSUP and SPAWAR) has adopted an integrated approach to contracting for support services.
The SeaPort-e portal provides a standardized means of issuing competitive solicitations amongst a large & diverse community of approved contractors, as well as a platform for awarding & managing performance-based task orders.
Quality Assurance Program:
Quality Control Through Total Quality Management: AIS Technology Quality Assurance Program is a proven, repeatable processes that encompass a disciplined system of planning, budgeting, reviewing, testing, inspecting, auditing, and reporting on quality throughout the life of the project. Our QA approach is based on the application of Total Quality Management (TQM) principles and practices to the products, services, and processes of our task performance efforts. As we implement it, TQM is simultaneously a leadership philosophy, a working environment, and a disciplined methodology that fosters a quest for the continuous improvement of products, services, and processes. Our TQM program is cost effective: it shortens the time and reduces the cost to deliver quality products and services. Our TQM procedures will be an integral part of our technical approach to every task order, and they will apply equally to all members of our project team. Below Figure represents the methodology we will use to implement our program.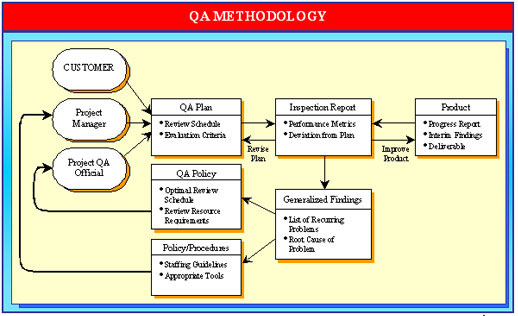 AIS Technology was tasked with providing LAN/WAN, training, helpdesk, web-development, and administrative support for the U. S. Naval Hospital, located at Great Lakes, Illinois.
AIS technology implemented a new help desk solution (Remedy) to provide accurate, timely, and reliable IT systems and services support to the hospital. New Help Desk software will be updated on a daily basis using SMS data to ensure the help desk data will always be current and accurate. Providing training on the procedures of Remedy. Recommended and using network tools such as Systems Management Services or SMS at the USNH which allows our systems and LAN administrators to remotely access machines to fix help desk issues, push patches, install software or any variety of tasks needed to be preformed. Using such network tools, personnel and resources are being used to the utmost capacity. Ensure the key components of the USNH LAN system are being upgraded with new equipment. MDS Senior systems and LAN administrators are responsible of ensuring and monitoring all security measures, applying security updates and notification of security breaches. Developed a structured backup and recovery process, implementing training for this process and provided the appropriate metrics for all servers. Established consistent procedures for utilizing reporting tools to identify anomalies and the processes for corrective action. Tasked with the installation of multiple PKI systems. Designed, configured, and monitor network performance with HP Open View, Network Associates Sniffer and various other monitoring software. Perform security checks including intrusion detection, firewall maintenance, and patch fixes.
Configure and maintain all routers between 11 locations, using Cisco 2500, 3640, and 4000 series routers. Protocols used include BGP and OSPF in an IP environment. Also created and maintained access-list, sys Servers, and configurations. Configure and maintain all Switches and Hubs between 11 locations, using Cisco 2900 Catalyst, and 3Com superstacks. Configure VLANs, Trunks, and Port configurations for specific needs. Configure and maintain firewall and security devices and needs. Pix firewall, IDS, access lists, and VPN solutions. Configure, Build, and Maintain Servers – Microsoft PDC, BDC, Exchange 5.5 and SMS. Create, design, and implement user policy for a 2400 user network. Maintain user accounts, email accounts. Support, teach, and develop LAN Administrators and PC technicians. Build and Support the internal intranet as well as the external sites using Asp, DHTML, etc. Build and Maintain Remote access for home and remote users. Research, recommend, and perform purchasing functions for products needed. Support helpdesk software and databases. Support SHIPP client software. All programming and web based applications currently in use. Coordinator of training for civilian and military in regards to IT topics. All operating procedures are being documented for the LAN/WAN help desk and the web site.
Program Performance Achievements
Quality of Product or Service. Evaluation Criteria: Compliance with contract requirements, accuracy or reports, technical excellence.
Schedule and Cost Adherence. For this calendar year 2006-2007, Advanced Integrated Software, Inc. has provided more than 8 deliverables to the US Navy Hospital on time and ready for acceptance without a problem. Consequently Advanced Integrated Software, Inc. personnel continue to make major contributions to the overall success of the Naval Hospital's mission.
Cost Control. Evaluation Criteria: Within budget; current, accurate, and complete billings; relationship of negotiated costs to actual; and cost efficiencies. This task is within budget.
Business Relations. Evaluation Criteria: Effective management, reasonable/cooperative behavior, flexible, effective contractor recommended solutions, business-like concern for government's interests, responsive to inquiries, cal/service/administrative.